Post by dinosauria101 on Sept 26, 2019 1:04:19 GMT
Giganotosaurus carolinii
Giganotosaurus ("giant southern lizard"), was a carcharodontosaurid dinosaur that lived 93 to 89 million years ago during the Turonian stage of the Late Cretaceous period. It is one of the longest known terrestrial carnivores, bigger than Tyrannosaurus, but in length and weight, smaller than Spinosaurus. Although longer than T. rex, G. carolinii was lighter and had a much smaller braincase that was the size and shape of a banana. A well-developed olfactory region means it probably had a good sense of smell. Titanosaur fossils have been recovered near the remains of Giganotosaurus, leading to speculation that these carnivores may have preyed on the giant herbivores. Fossils of related carcharodontosaurid fossils grouped closely together may indicate pack hunting, a behavior that could possibly extend to Giganotosaurus itself. he holotype specimen's (MUCPv-Ch1) skeleton was about 70% complete and included parts of the skull, a lower jaw, pelvis, hindlimbs and most of the backbone. The premaxillae, jugals, quadratojugals, the back of the lower jaws and the forelimbs are missing. Various estimates find that it measured somewhere between 12.2 and 13 m (40 and 43 ft) in length, and between 6.5 and 13.3 tons in weight. A second, more fragmentary, specimen (MUCPv-95) has also been identified, found in 1987 by Jorge Calvo. It is only known from the front part of the left dentary which is 8% larger than the equivalent bone from the holotype. This largest Giganotosaurus specimen is estimated to represent an individual with a skull length of 195 cm (6.40 ft), compared to the holotype's estimated at 1.80 m (5.9 ft) skull, making it likely that Giganotosaurus had the largest skull of any known theropod. Giganotosaurus surpassed Tyrannosaurus in mass by at least half a ton (the upper size estimate for T. rex is 9.1 t). Additionally several single teeth, discovered from 1987 onwards, have been referred to the species.
img00.deviantart.net/6d9d/i/2012/144/e/e/giganotosaurus_carolinii_by_teratophoneus-d50xwgw.jpg
Tarbosaurus bataar
Tarbosaurus belongs in the subfamily Tyrannosaurinae within the family Tyrannosauridae, along with the earlier Daspletosaurus, the more recent Tyrannosaurus and possibly Alioramus. Animals in this subfamily are more closely related to Tyrannosaurus than to Albertosaurus and are known for their robust build with proportionally larger skulls and longer femurs than in the other subfamily, the Albertosaurinae. Although many specimens of this genus have been found, little definite data was confirmed on the dinosaur as of 1986, though it was presumed to share many characteristics with other tyrannosaurids. The close similarities have prompted some scientists to suggest a possible link between the North American and Eurasian continents at that time, perhaps in the form of a land bridge.As with most dinosaurs, Tarbosaurus size estimates have varied through recent years. It could have been 10 to 12 meters long, with a weight of 5 - 7 tons.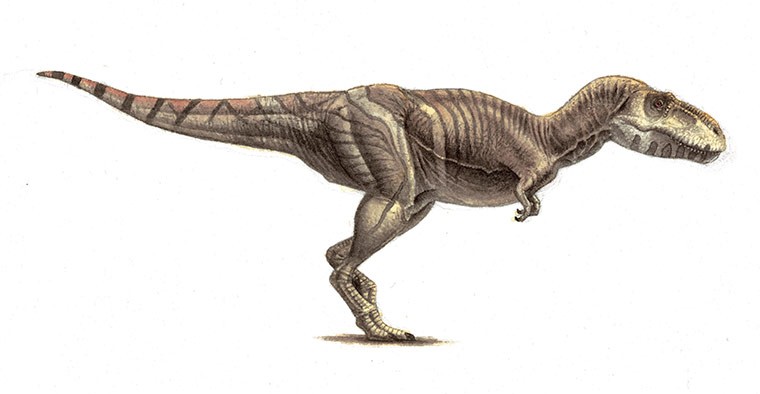 images.dinosaurpictures.org/Tarbosaurus-1_28b8.jpg
Credit to Wikipedia