Post by dinosauria101 on Oct 8, 2019 2:04:10 GMT
Tyrannosaurus rex
Tyrannosaurus is a genus of coelurosaurian theropod dinosaur. The species Tyrannosaurus rex (rex meaning "king" in Latin), commonly abbreviated to T. rex, is a fixture in popular culture. It lived throughout what is now western North America, with a much wider range than other tyrannosaurids. Fossils are found in a variety of rock formations dating to the Maastrichtian age of the upper Cretaceous Period, 67 to 65.5 million years ago. It was among the last non-avian dinosaurs to exist before the Cretaceous–Paleogene extinction event. Like other tyrannosaurids, Tyrannosaurus was a bipedal carnivore with a massive skull balanced by a long, heavy tail. Relative to the large and powerful hindlimbs, Tyrannosaurus forelimbs were small, though unusually powerful for their size, and bore two clawed digits. Although other theropods rivaled or exceeded Tyrannosaurus rex in size, it was the largest known tyrannosaurid and one of the largest known land predators. By far the largest carnivore in its environment, Tyrannosaurus rex may have been an apex predator, preying upon hadrosaurs and ceratopsians, although some experts have suggested it was primarily a scavenger. The debate over Tyrannosaurus as apex predator or scavenger is among the longest running in paleontology. Tyrannosaurus rex was one of the largest land carnivores of all time; the largest complete specimen, FMNH PR2081 ("Sue"), measured 12.8 metres (42 ft) long, and was 4.0 metres (13.1 ft) tall at the hips. Mass estimates have varied widely over the years, from more than 7.2 metric tons (7.9 short tons), to less than 4.5 metric tons (5.0 short tons), with most modern estimates ranging between 5.4 and 6.8 metric tons (6.0 and 7.5 short tons). Packard et al. (2009) tested dinosaur mass estimation procedures on elephants and concluded that dinosaur estimations are flawed and produce over-estimations; thus, the weight of Tyrannosaurus could be much less than usually estimated. Other estimations have concluded that the largest known Tyrannosaurus specimens had a weight exceeding 9 tonnes.
i53.photobucket.com/albums/g62/TigerQuoll/dinosaur/tyrannosaurus_1.jpg
Apatosaurus ajax
Apatosaurus (meaning "deceptive lizard") is a genus of herbivorous sauropod dinosaur that lived in North America during the Late Jurassic period. Othniel Charles Marsh described and named the first-known species, A. ajax, in 1877, and a second species, A. louisae, was discovered and named by William H. Holland in 1916. Apatosaurus lived about 152 to 151 million years ago (mya), during the late Kimmeridgian to early Tithonian age, and are now known from fossils in the Morrison Formation of modern-day Colorado, Oklahoma, New Mexico, Wyoming, and Utah in the United States. Apatosaurus ajax would have ranged from 21 to 37 meters (70 to 121 feet) in length, and would have had a weight ranging from 20 to over 95 tons, based on larger specimens.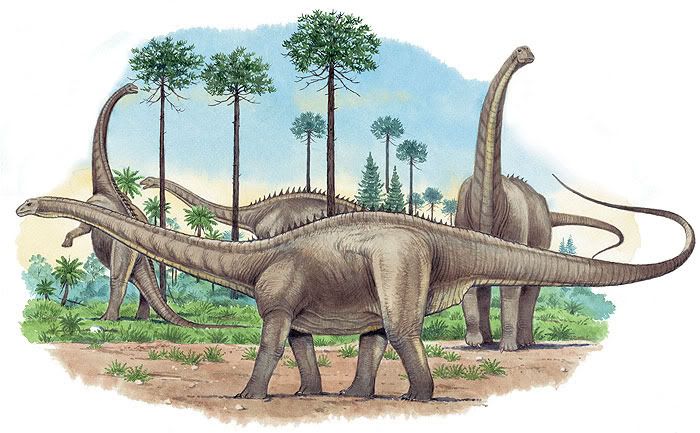 i53.photobucket.com/albums/g62/TigerQuoll/dinosaur/Apatosaurus-1.jpg
Credit to Wikipedia